M.R.P. -
Material Requirements Planning (Back)
This has become one of the most powerful features of 1st Manufacturing and has the potential for saving an enormous amount of planning time and effort and avoiding the embarrassment of Raw Material or Components not being ordered in time or Internal Works Orders not being commenced allowing sufficient Production Lead Time.
The benefits of 1st Manufacturing's M.R.P. are especially helpful where you manufacture many Assemblies and Sub-Assemblies with a number of common Components or Sub-Assemblies and your Customers have a very volatile Call-Off Requirement on you. This combination creates an administrative nightmare without some form of automation – and we believe 1st Manufacturing's M.R.P. solution to be an excellent aid to managing this situation but we would encourage you to talk to our customers for their view on how beneficial our M.R.P. solution really is.
In summary it achieves all the following:
Incorporates all the latest Sales Order Book Data
------------ ditto ------------- Purchase Order Data
------------ ditto ------------- Works Order Data
------------ ditto ------------- Stock and Raw Material Data
------------ ditto ------------- Bills of Material Data
Applies Production or Purchase Lead Time to every Item
Identifies Nett Requirement of any Component or Raw Material where required
Produces suggested Work Orders taking into account minimum Production Batch rules
Produces suggested Purchases Orders taking into account minimum Purchase Batch sizes
Provides forecast purchase requirements (to send to each Supplier), to help drive down Prices and Delivery Times
Unfortunately we can't provide this element of the system on its own or in the first wave of installation!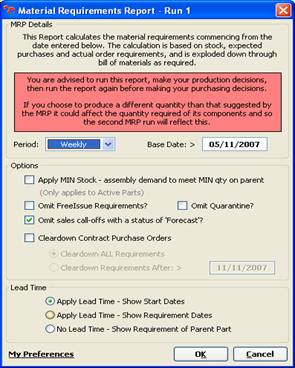 The benefits of M.R.P. can only be fully realised when all the underlying information is accurate and can be relied upon and this often means 3, 6 even 9 months after installation – unless you have all the accurate information in other systems from which we can import this information.
Many companies generate their Works Orders and Purchase Orders 'back to back' from their Customer Orders – often this is considered to be the only way. However, where you have volatile and ever changing Sales Orders from your Customers then this becomes a repeated nightmare of changing all the underlying Works Orders or Purchase Orders ever time anything changes.
Also, where you have commonality of Components (Manufactured or Bought-In ) or Raw Materials you wind up raising more Purchase Orders and Works Orders, for smaller Batch Sizes, than necessary resulting in higher Purchasing, Manufacturing and Logistics costs than necessary.
1st Manufacturing's M.R.P. will assist by reducing all your actions to just a single action for every unique Part or Material as ALL their requirements ( with Lead Times taken into account ) are netted together into a single requirement for each item.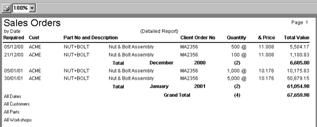 The following example demonstrates how, with just the introduction or amendment of Sales Orders, when combined with the Bill of Materials, current Stock position and Lead Times the Material Requirements are calculated and grouped within Bought-In, Manufactured and Raw Material sections of the MRP report:
Sales Orders Bill of Materials
+
Stock
+
Outstanding Purchase Orders
+
Outstanding Works Orders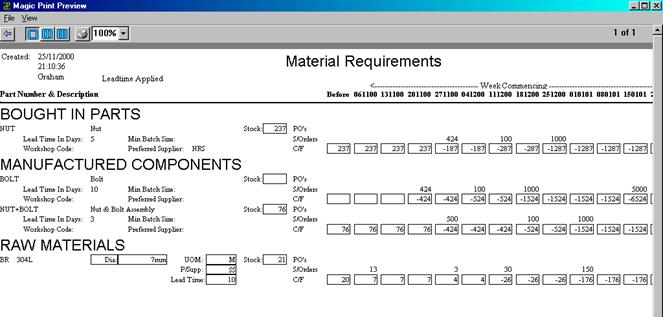 =
The MRP report has various options including production by Preferred Supplier which can then be supplied direct to your Suppliers as your forecast requirement to supplement your actual Purchase Orders.